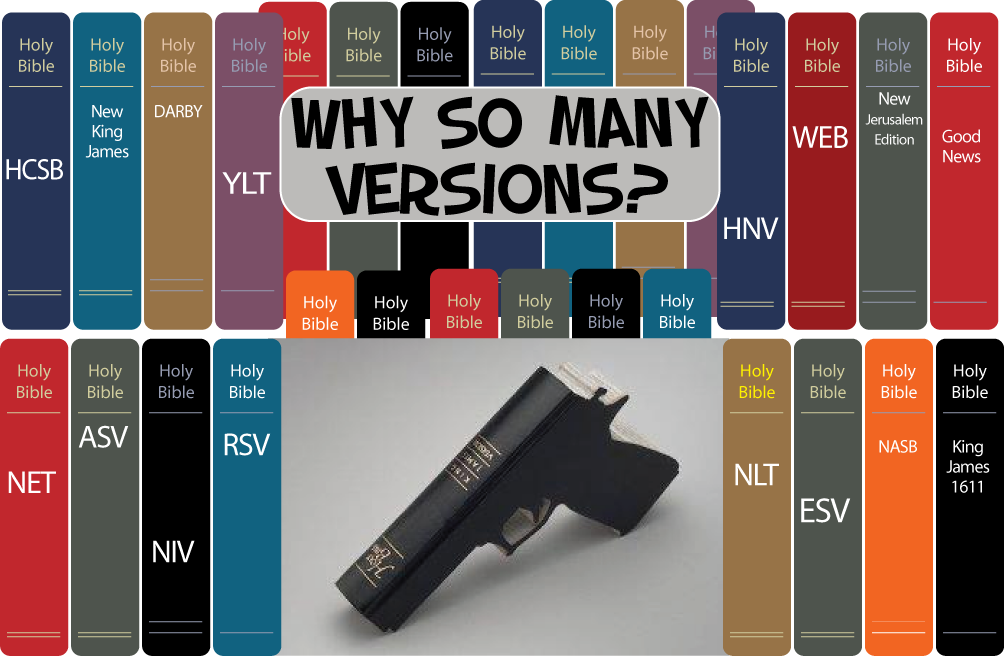 Why the King James Part 1 - Inspiration
"All scripture is given by inspiration of God, and is profitable for doctrine, for reproof, for correction, for instruction in righteousness: That the man of God may be perfect, throughly furnished unto all good works" (2 Timothy 3:16-17). Not to obtain sinless perfection, but to be fresh/complete.
What should we know first? "Knowing this first, that no prophecy of the scripture is of any private interpretation. For the prophecy came not in old time by the will of man: but holy men of God spake as they were moved by the Holy Ghost" (2 Peter 1:20-21). These holy men did not apply their own private interpretation but spoke only the words which the Holy Ghost moved them.
Please not that it is the scripture that is inspired, not the men themselves. Those men have long since departed, but the scriptures, the very words of God, are still with us.
At least 504 times the Old Testament is quoted in the New. Christ Himself said, "Search the scriptures; for in them ye think ye have eternal life: and they are they which testify of me" (John 5:39). What scriptures? These words contained in the Old Testament: "For had ye believed Moses, ye would have believed me: for he wrote of me. But if ye believe not his writings, how shall ye believe my words?" (John 5:46-47)
Paul, to the church at Rome: "For whatsoever things were written aforetime were written for our learning, that we through patience and comfort of the scriptures might have hope" (Romans 15:4).
Christ quoted from the Old Testament when tempted on the devil (Luke 4), His answer "It is written" quoting Deuteronomy 8:13, 10:20, and 6:16. When the Pharisees came unto Him tempting Him, Christ answered, "Have ye not read" (Matthew 19:4), and to the Sadducees, "Ye do err, not knowing the scriptures" (Matt 22:29). Christ also read from Isaiah 61:1-2 while in the Temple (Luke 4:18). Since "The words of the LORD are pure words" (Psalms 12:6), study why Christ chose the very words He used in the New Testament.
"For I have not spoken of myself; but the Father which sent me, he gave me a commandment, what I should say, and what I should speak. And I know that his commandment is life everlasting: whatsoever I speak therefore, even as the Father said unto me, so I speak." (John 12:49-50)
Christ, speaking to the Father: "For I have given unto them the words which thou gayest me; and they have received them, and have known surely that I came out from thee, and they have believed that thou didst send me." (John 17:8)
Consider this: Our Bible was written over a 1,600 year period, on 2 continents, in 3 languages, by 40 different men; in tents, cities, deserts, prisons, palaces, etc. by prophets, priests, kings, judges, shepherds, fishermen, a tax collector, a physician, and others — 66 books and yet harmonizing beautifully presenting". . .one body, and one Spirit, even as ye are called in one hope of your calling; One Lord, one faith, one baptism, One God and Father of all, who is above all, and through all, and in you all" (Ephesians 4:4-6) and fulfilling every prophecy (over 80 in the 26th chapter of Ezekiel alone).
As far as the Apocrypha, dubious writing during the 400 years between the Old and New Testaments, the Greek term means secret, obscure, to hide away or false, and is never quoted in the New Testament.
Let us present a challenge to those who may not believe every word of our King James' Bible is inspired:
"Produce your cause, saith the LORD; bring forth your strong reasons, saith the King of Jacob. Let them bring them forth, and shew us what shall happen: let them shew the former things, what they be, that we may consider them, and know the latter end of them; or declare us things for to come. Shew the things that are to come hereafter, that we may know that ye are gods: yea, do good, or do evil, that we may be dismayed, and behold it together." (Isaiah 41:21-23)
The word "truth" is found 234 times in the Bible — 117 times in the Old Testament and 117 times in the New Testament. Let us "Study to shew thyself approved unto God, a workman that needeth not to be ashamed, rightly dividing the word of truth." (2 Timothy 2:15)
Why the King James Part 2 - Preservation
"The words of the LORD are pure words: as silver tried in a furnace of earth, purified seven times. Thou shalt keep them, 0 LORD, thou shalt preserve them from this generation for ever" (Psalms 12:6-7). Notice it is the words which are preserved, not the parchment on which the words were written.
First, let us notice the special care used in preserving the inspired words of the Old Testament. The copiers had to pronounce aloud each word before writing it down. In no case was the word to be written from memory. Every single letter was numbered by them including how many times it occurred. They used a particular ink on a particular parchment—made from the skin of a "clean" animal. The copyist wrote in so many columns, of a particular size, and containing a certain number of lines and words. No letter could be written without looking at the original. When completed, the copy was examined and compared within thirty days; if four errors were found on one parchment, the examination ceased and the entire work was rejected.
On July 22, 1604, King James of England appointed 54 language scholars to translate the Bible into English. Forty-seven met. These men were organized into six companies, two each at Cambridge, Oxford and Westminster. Each group was designated a portion to translate. When completed each portion was sent to each of the other groups. The entire version was finally studied by a group of six to ensure accuracy. It can be seen by this method that each jot and tittle (Matthew 5:18) was carefully gone over at least 14 times.
A jot (iota) is the smallest letter in the Greek alphabet, and a tittle (yod) the smallest in the Hebrew (Luke 16:17). Remember how adding the letter "s" would change the entire meaning of Galatians 3:16. Any word not found in the manuscripts, placed to make easier reading, was written in italics.
Read the genealogies found in the first nine chapters of 1 Chronicles, proper names beginning with Adam preserved for us in the proper sequence with the proper spelling. Perhaps the greatest scholar of his age, the librarian at Alexandria compiled a catalogue in 200 BC of the 38 kings of Egypt. Only four are recognizable. He also compiled a list of the kings of Assyria; only in one case can you tell who is meant and that one is not spelled correctly. One Ptolemy (common name of the 15 Macedonian kings of Egypt, beginning 323 BC) compiled a register of 18 of the kings of Babylon. Not one of them is spelled properly. You could not make them out at all if you did not know from other sources to whom he is referring. There are 29 ancient kings whose names are mentioned not only in the Bible but also on monuments of their own time, some as long as 4,000 years ago. The Bible places these in the correct sequence, in the correct time-frame, in the proper country, and with the proper spelling. What a marvelous book!
According to copyright law, new Bible versions can only be copyrighted as "derivative works." Words must be changed whether they need to be or not. No author or publisher receives a royalty o the "words" of the King James Bible because God is the author. God's word is not bound by anything, much less copyright (2 Timothy 2:9). Outdated words? Notice God's method of dealing with these words. He defines them while still retaining them (1 Samuel 9:9). The pronoun "you" (1611 English) is used 2,000 times in the King James and can be either singular or plural while "ye" (plural) and "thee," "thou," and "thy" (singular) are used when clarity is needed (Matthew 16:13.20). These words are special Bible language — easily simplifying the meaning for proper understanding. Understanding comes only from God (1 Corinthians 2:14).
The 1611 translators' use of formal equivalency (direct translation) and not dynamic equivalence (interpretation, not translation) gave no opportunity for private interpretation (2 Peter 1:20-21).
Simplicity? Ninety-five percent of the words in the King James Bible are one- and two-syllable words. The King James ease of reading is fifth grade level; the New King James and New American Standard are sixth grade level; Good News for Modem Man is seventh grade; and the New International Version is eighth grade level (Fleiss-Kincaid grade level formula).
"Seeing then that we have such hope, we use great plainness of speech" (2 Corinthians 3:12).
We are to neither add to nor diminish from His words (Deuteronomy 4:2, 12:32; Revelation 22:18). "Every word of God is pure: he is a shield unto them that put their trust in him. Add thou not unto his words, lest he reprove thee, and thou be found a liar" (Proverbs 30:5-6).
Elder Don R. Watson